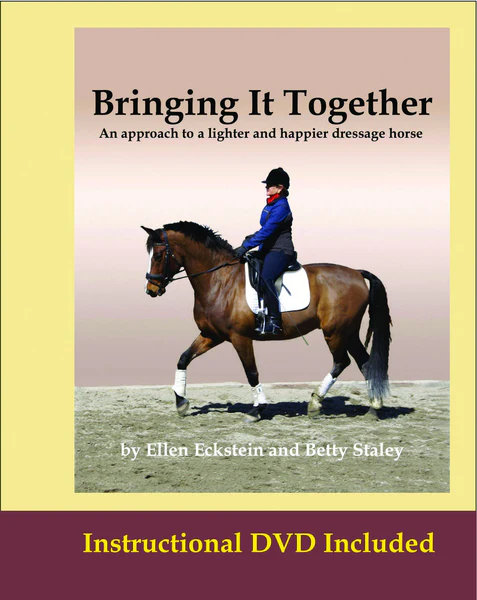 "Bringing it Together" is a collaboration between Ellen Eckstein and Betty Staley. It describes a system of training developed by Ellen that integrates the techniques and philosophy learned from her many years of work with Tom Dorrance and those of classical dressage.
This book is unique in that it helps the reader to understand what the pieces are that come together to make the horse feel good: soft and balanced to the rider and to himself… It provides, in a very simple step by step manner, an explanation to the rider of exactly what's happening to make things feel right, and how to fix it when things go wrong… This knowledge, once understood, can present a bridge that extends to almost every school of horsemanship.
Buck Brannaman: "Ellen Eckstein was secure enough within herself to search for a style of horsemanship in a most unlikely place considering her background of classical dressage. Her search brought her to Tom Dorrance. With her advanced level of "horse intellect" she has brought to her world a new outlook to some old school ideas…

Jane Smiley: "Ellen is a genius at looking at a horse and seeing how things appear from his point of view and then using that knowledge to not only get the best performance out a horse, but the happiest performance"
Ellen is a Grand Prix rider from California. She teaches, trains and coaches many successful competitive dressage riders and horses; and those of other disciplines as well.

At home in Montana, Betty Staley is an artist, writer and dedicated lifelong rider, both English and Western. Betty's riding is strongly influenced by her teachers Ray Hunt and Buck Brannaman. Betty also competes in dressage.