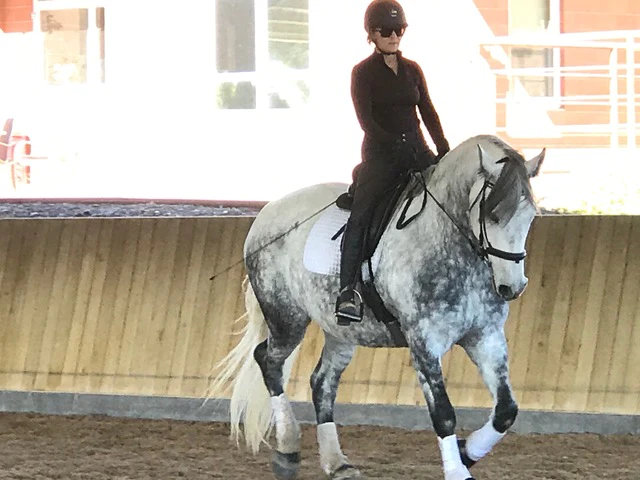 Ellen Eckstein grew up on the wild, remote, Oregon Coast where she spent her childhood roaming the mountains and beaches on horseback. She rode in 3-day events hunter jumper shows as a young adult. And she has been competing in dressage since 1971. Ellen's dressage credentials are extensive: Her earliest dressage teacher was the German Dressage coach, Hermann Friedleander.
Ellen's approach to each horse and rider is based upon the belief in the innate goodness in each person, and in the intrinsic willingness in the horse. Her goal is to enhance the relationship between the two by fostering understanding and to give the rider the tools and techniques to safely and successfully ride and train his or her own horse.
She was long listed in 1977 with her TB Raven by then Olympic Coach, Bent Ljundquist as a candidate for international competition for the USA. In addition, she has earned both USDF Gold and Silver medals as well as many national and state awards in dressage.
In 1977, Ellen started down a path that would literally mold the rest of her life. That is when she began an about 30 year association with legendary horseman, Tom Dorrance. As she competed through the Grand Prix level, continuing to ride with top European and American professionals, Ellen would check in frequently with Tom to assist her in combining the classical dressage principles she was acquiring, with the simple, yet profound concepts that Tom helped her to apply.
The integration of these two schools of horsemanship has been her lifelong professional pursuit. What she believed could be achieved with horses was in fact, real: horses and riders could have a relationship of mutual respect and understanding, and yet to be able to compete at the highest levels of any discipline.
Ellen is available for lessons and clinics
and takes horses in full training
facilities Located in Templeton, California
in the wine country of the beautiful Central Coast.